Home Page
Subscribe to posts
Multiple submissions are allowed, but each must be from a different work. No entries will be accepted after 11:59 pm on May 16. Submissions can be a short story or part of a larger story, and will be judged on:
o   Creativity (30%)
o   Characterization (25%)
o   Story development (25%)
o   Spelling, grammar, and articulation (20%)
Each submission must be accompanied by the attached cover page. Please do not include any identifying information in the submission itself. Your identity should only be on the cover page. A number will be assigned to your work to anonymously identify your submission. This means anyone may enter the contest, including NDL employees and board members. You do not need a Niles District Library account to enter.
You can submit your entry by emailing it, with the cover page, to laura.hollister@nileslibrary.net or by giving it to Information Desk staff at the library. If you need help converting your file to Word format, please ask the Computer Lab for assistance.
With each submission you agree to allow the Niles District Library to share your story (with proper attribution) as it chooses, both in print and online. Full rules are attached.
Tween Book Club
 Thursday, April 23rd @ 4:00pm in the Classroom
Ages 8-12
Copies of the book available at the Youth Services Desk.
Simply told, grandly shown, here is the flight of Apollo 11. Here for a new generation of readers and explorers are the steady astronauts, clicking themselves into gloves and helmets, strapping themselves into sideways seats. Here are their great machines in all their detail and monumentality, the ROAR of rockets, and the silence of the Moon. Here is a story of adventure and discovery -- a story of leaving and returning during the summer of 1969, and a story of home, seen whole, from far away.
Upcoming Books!
May 14th- Ophelia and the Marvelous Boy by Karen Foxlee
May 28th- This Journal Belongs To Ratchet by Nancy Cavanaugh
June 11th- The Magician's Elephant by Kate DiCamillo
June 25th- Sugar by Jewel Parker Rhodes
July 9th- Cassie and the Woolf by Olivia Snowe
July 23rd- Ice Whale by Jean Craighead George
August 13th- Five Kingdoms: Sky Raiders by Brandon Mull
August 27th- The Night Gardener by Jonathan Axler
September 10th- The Great Gilly Hopkins by Katherine Paterson
September 24th- Rump: The True Story of Rumplestiltskin by Liesel Shurtliff
October 8th- Three Time Lucky by Sheila Turnage
October 22nd- Number the Stars by Lois Lowry
November 12th- The Mysterious Benedict Society by Trentlee Stewart
November 19th- A Handful of Stars by Cynthia Lord
December 10th- Ghostopolis by Doug Tennapel
December 17th- The Bambino by Nel Yomtov 
Twisted Stitches meets Fridays at 1pm. David can help you with knitting, but you're welcome to bring any kind of handwork!
Teen Book Club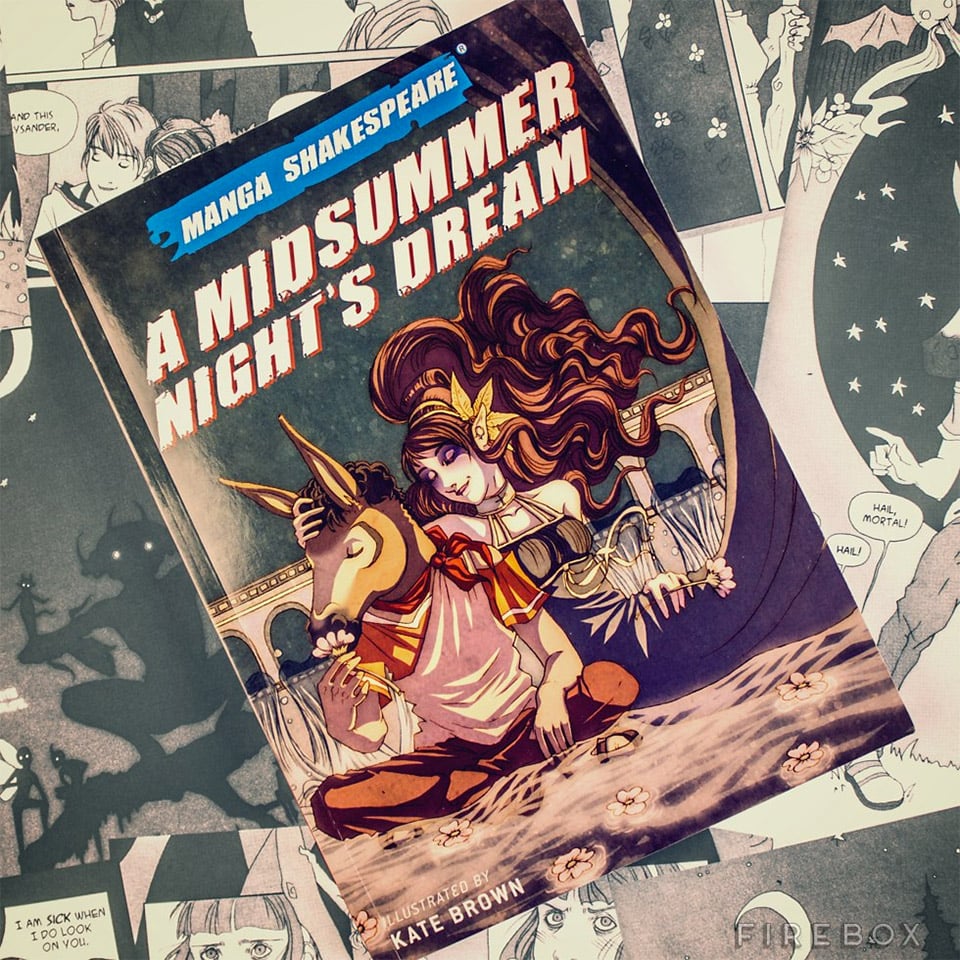 Thursday, April 23rd @ 4:00pm
Copies of the book available at the Youth Services Desk.
In one of Shakespeare's funniest, most enduring stories, meddling fairies create unexpected love triangles among a group of teenagers. Hermia is in love with Lysander. Demetrius is in love with Hermia. Helena is in love with Demetrius. Add to the mix Puck, a fairy with a powerful love potion, and chaos is sure to follow. Now everyone's in love with Helena, Hermia is hopping mad, and the fairy queen Titania is in love with a man with a donkey's head! Using the style and visual language of manga, Kate Brown transforms Shakespeare's world into something new and vibrant. It's the perfect introduction to Shakespeare's work for reluctant readers and manga fans alike.
Upcoming Books
May 28th- Ender's Game by Orsen Scott Card
June 11th- Wonderstruck by Brian Selznick
June 25th- The Invention of Hugo Cabret by Brian Selznick
July 9th- Smile by Raina Telgemeier
July 23rd- Sisters by Raina Telgemeier
August 13th- Evil Librarian by Michelle Knudsen
August 27th- Evil Genuis by Catherine Jinks
September 24th- We Were Liars by E. Lockhart
October 22nd- Legend by Marie Lu
November 19th- Winger by Andrew Smith
December 17th- Feed by MT Anderson